Heart to Heart international, long time partner to Humanitarian Software, recently moved to a new facility in September. The new  facility (pictured below) is the culmination of 15 years of growth in their international and domestic aid programs.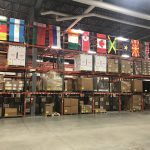 Heart to Heart has played an instrumental role in the development of the Software tools Humanitarian Software develops.
By providing critical feedback on how the system can better accommodate the unique business practices many disaster relief organization share.
Humanitarian Software relies heavily on the nonprofits that use their tools to provide feedback on what features will bring the most value to their business practices.
With a new facility to fuel their efforts H2H will undoubtedly provide more relief assistance to those who need it. As long standing partners we intend to keep providing them with the tools they need to keep expanding into the future.